5 best cat carriers to easily transport your pet
All pet cats need to be transported from time to time, whether for annual vet appointments, holidays, home moves, or if you and the cat enjoy travelling together, for fun.
Your cat carrier will have some effect on how comfortably and happily your cat travels – so it's well worth making the effort to find the right one.
Which carrier is the right one, of course, will depend on your cat. Getting the right size of carrier for your cat is perhaps the most important consideration of all.
While it may feel as if buying a relatively spacious carrier would be the kind choice, a snugger fit may in-fact be best for short journeys, as cats tend to feel safer in small spaces. Think of all the times cats you've known have hidden behind the sofa or down some other improbably narrow gap: it's usually the owner freaking out, not the cat.
Another key consideration is security. Some carriers are more escape-proof than others, with solid plastic carriers typically providing a safer solution than carriers made with softer materials.
For this reason, we recommend a hard carrier for transportation in public contexts, e.g. by train, by aeroplane or on foot. Soft carriers will do nicely for car journeys, where in the unlikely event of an escape, the cat would still be in an environment you can control.
Thirdly, you'll need to think about the experience the carrier provides, from both your cat's perspective and your own. Is there a decently-sized viewing window, and if so, is that something your cat would enjoy having?
How does the carrier feel to hold? Would it be easy to coax your cat into? And does it provide a solid foundation for the cat to sit and stand upon? We've weighed up all these factors in our reviews of 5 of the best cat carriers available now.
Lazy Bones skudo airline approved carrier
Dimensions: 68 x 48cm
When it comes to cats and air travel, if we're honest, it's not a great combination. But if you really do have to take to the skies with your pet, this hard-wearing, airline-approved carrier from Lazy Bones will help minimise the risk of an in-flight escape.
Solidly constructed and featuring a door lock that's as impossible for cats to operate as it is simple for humans, the Skudo could well be the best-escape-proofed carrier we've tested. And thanks to its sturdy feet, there's little chance of it moving around too much in transit.
360 degree transparent space capsule backpack
Dimensions: 42 x 31 x 25cm
What could be cuter than a cat in a rucksack? POPETPOP's backpack puts its feline cargo proudly on show, with a wide-angle window that also serves to give the passenger a great view onto the world.
Backpacks are inherently easier to carry than handheld carriers, and this one's super-lightweight construction makes it even easier than most to travel with on foot. The downside to this type of carrier is that you'll need to take it off whenever you want to check how your cat is faring – and if you're anything like us, that could be quite often. For the right cat, this is a fabulously fun and convenient option.
folding pet carrier
Dimensions: 38 x 26 x 24cm
Simple, effective and affordable, PetPlanet's folding pet carrier is a sensible for choice for owners who want to get their cat from A to B with minimal fuss. It's a little like a gym bag, with a sporty, duffle-like design, and soft fabric that allows for the carrier to be folded down when not in-use.
The potential downside to soft carriers like this one is that they may be easier for determined cats to breach than a solid carrier would be. In our view, that makes them best suited to transporting cats by car, rather than by foot or on public transport. That said, PetPlanet's folding pet carrier seemed perfectly robust to us.
black soft-sided pet carrier, medium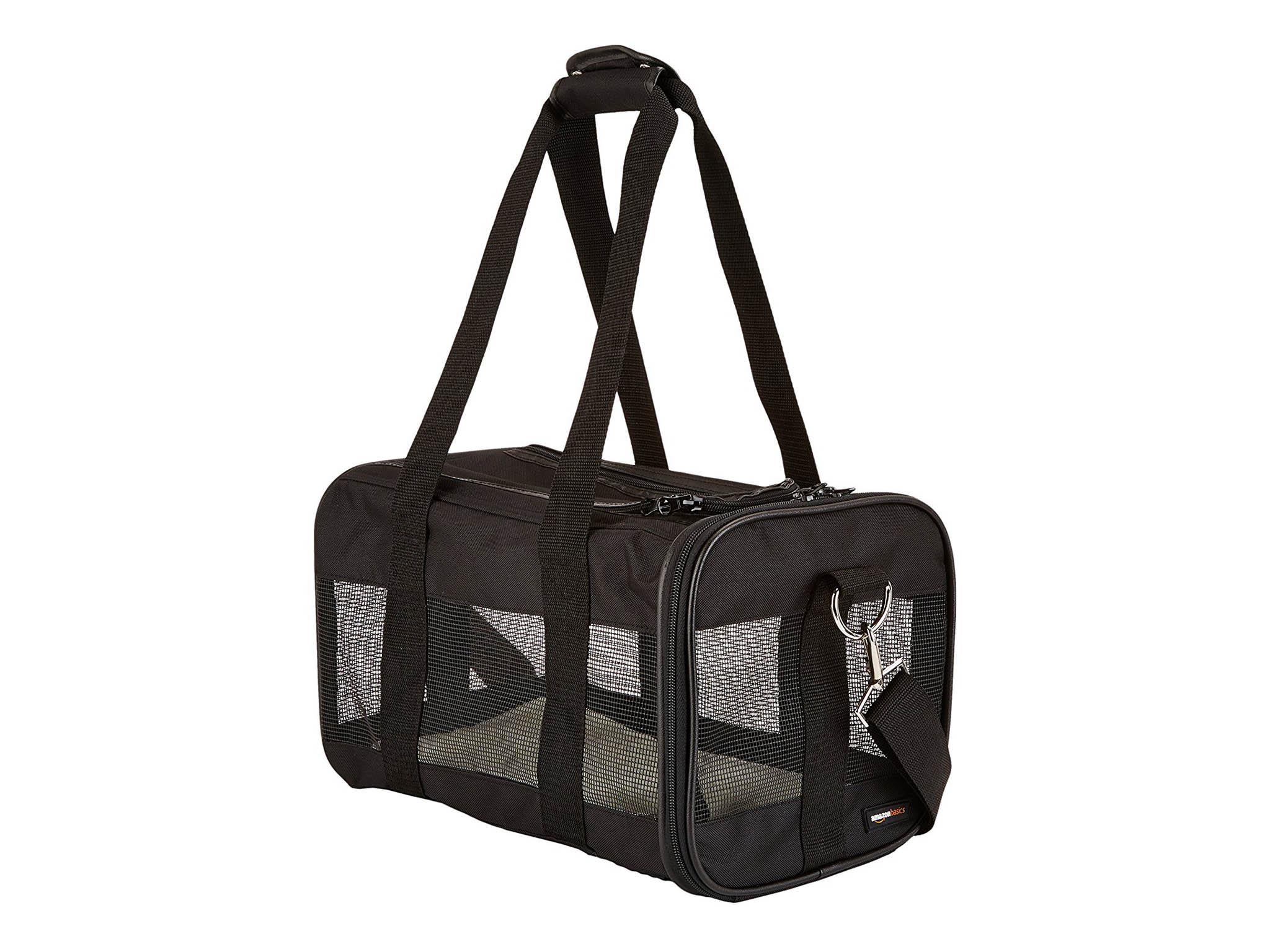 Dimensions: 43 x 24 x 25cm
Who knew Amazon made cat carriers? If this one's anything to go by, they're pretty good at it. It's not charming like the Prestige wicker igloo carrier or head-turning like the Sleepypod Air – but it does a perfectly good job of getting your cat from A to B on a budget.
Owners who like to check on their pet in-transit will be glad to note the mesh on all sides of this carrier makes it really easy to see the passenger. The downside to this is that many cats prefer to be more thoroughly enclosed, with a reassuring visual barrier between them and the outside world. In our view, that makes this carrier best suited to travel by car, or very chilled out cats.
Me and My Pets expandable carrier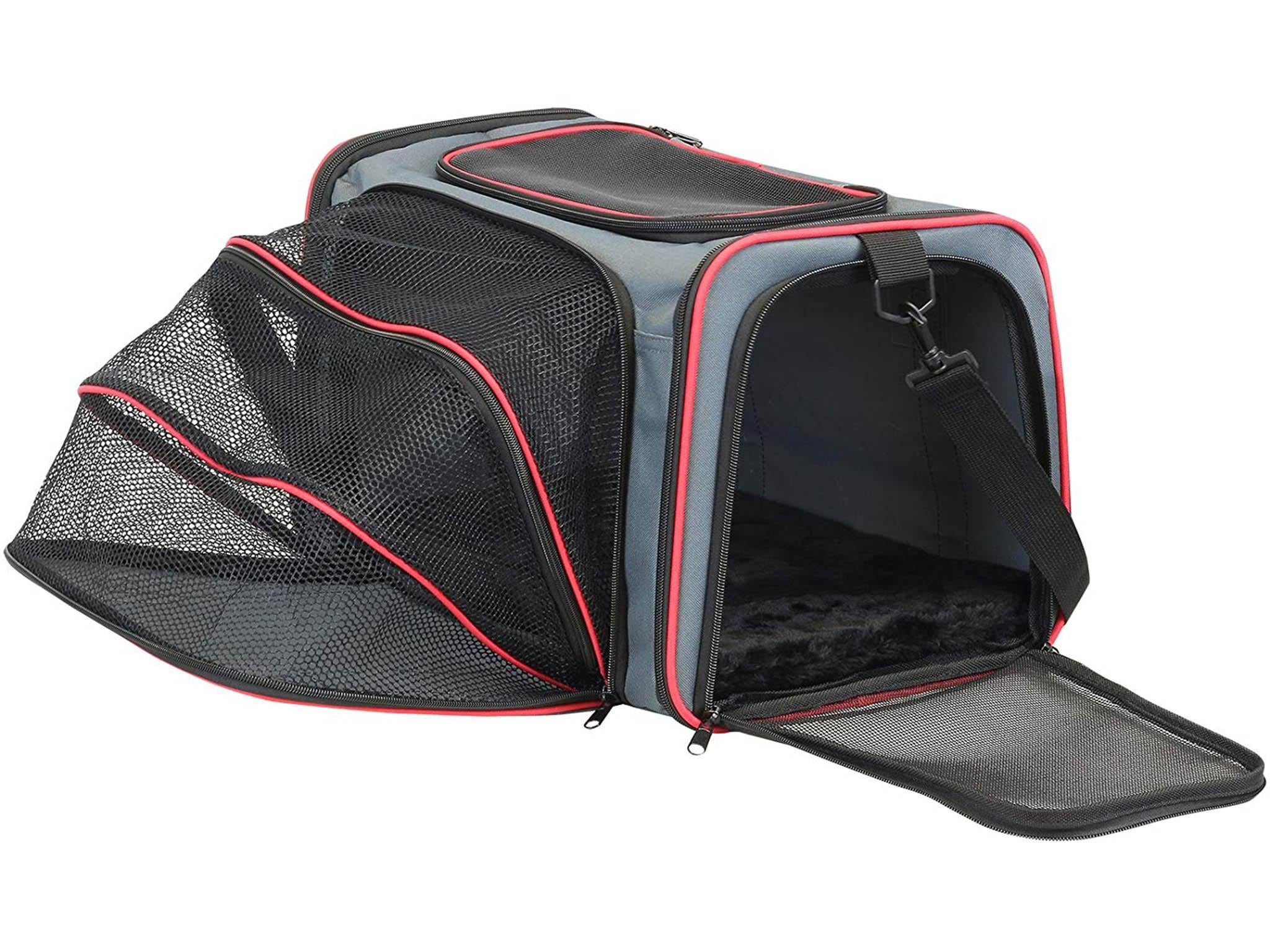 Dimensions: 49 x 32 x 32cm
This unusual expandable carrier from Me and My Pets can be opened out to provide extra space for your cat to prowl around in, without leaving the carrier. We can see this coming in handy on longer journeys – for instance, when travelling with a cat on a delayed train.
With its fold-out compartment tucked away, Me and My Pets' carrier is much like a gym bag. A mesh panel on the front provides just the right amount of visibility of the cat's surroundings. Also available in a small size that's perfect for carrying kittens.