BASIC INFO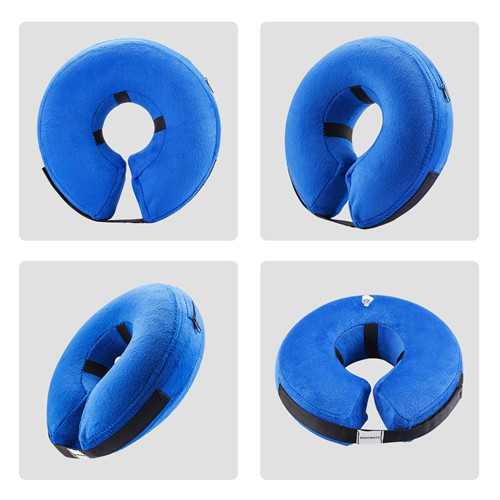 The BENCMATE recovery collar is a soft and comfortable inflatable collar, which is designed to prevent your pet from scratching or biting injured area. It does not interfere your pet's peripheral vision, they can eat, drink and sleep normally. And it would not mark or scrape furniture. Great for dogs and cats recovering from surgery and it's washable. When you do not use it, you can deflate it for storage.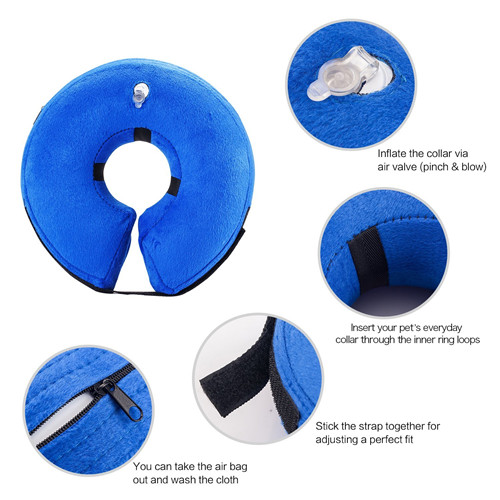 The comfy cone collar is great for recovery from surgery or wounds. And it will not mark or scratch furniture. It's lightweight, soft and comfortable, allowing your dog to eat, drink and sleep normally. It helps your pet recover from surgeries, procedures and hot spot in comfort.

Soft & Comfortable;Adjustable;Easy for storage

IMPORTANT:
Always monitor a pet post-surgery to ensure collar is working properly.
Designed for pet use only. Not intended to be used as a flotation device.
How to use.
Insert your pet's everyday collar through the inner ring loops of the collar.

Inflate the collar via air valve(pinch & blow). Please put the zipper together when inflates. Inflate until it feels full, but not hard.

Fasten everyday collar onto your pet and stick the strap that should be placed at the back of the neck then adjusted it for a perfect fit.